Hand Bell Choirs
The handbell choir program at St. Paul's is quite active, however, that does not indicate that additional participants are not welcome.  Quite the opposite, more players would enlarge the possibilities of music able to be played. We currently have two choirs, both of which rehearse for one hour per week.
Joyful Ringers (pictured below) has 14 ringers, and rehearses Thursday at 6:15PM.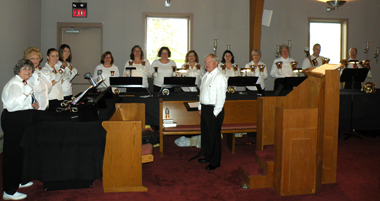 Morning Bells (pictured below) has 12 ringers, and rehearses on Sunday at 9:00AM.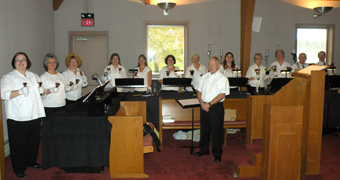 The hand bells also participate in a hand bell concert outside of worship services.  The choirs are joined by a group called the Flutations and consists of several flutes, a percussionist, and a trombone or baritone player.
If you are interested in joining the handbell choir, please contact Dick Steltz.