St. Paul's Lutheran Church
Basket Social on September 17, 2022
8227 Hamilton Blvd
Breinigsville, PA 18031
610  398-7000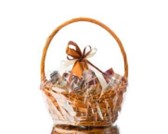 St. Paul's Lutheran Church in Breinigsville is having a Basket Social on September 17, 2022 from 9:00AM to 4:00PM. The social will include refreshments and a bake sale. A Basket Social is a form of silent auction where numbered tickets are purchased and dropped into a can aside of their choice of a basket. A winning ticket is drawn from each can at the end of the day of the event. You do not need to be present to win!
There will be a wide variety of over 50 baskets to choose from – ranging from baby gifts, kid's crafts, movie night, food gifts, gardening, bird-watching, spa items, tools, There will be something for everyone!  – preview a pictorial directory of our baskets.
There will be Specials – items which are more valuable than the regular baskets. Some examples of Specials are: Yeti cooler, fire pit, crockpot, Eagles merchandise,
There will be a large Paper Products basket (paper towels, toilet paper, wipes, etc). Everyone who brings a donated food item will receive a ticket towards winning the paper
There will be many Gift Cards from local restaurants and retail
There will be a Grand Prize – a $1,000 gift card from Best Buy.
Ticket Prices – Cash Only
Baskets and Gift Cards – $5 per card (26 tickets on each  card)
If purchased in advance – $20 for 5 cards; at door – $25 for 5 cards Specials – $5 for 6 tickets
Grand Prize – $1,000 Best Buy Gift Card – $5 per ticket
To purchase tickets in advance contact Anita at 484-221-0445 or email anita.eisenhard@yahoo.com